barbed wire three twist types
barbed wire three twist types
2013-05-22 12:33:38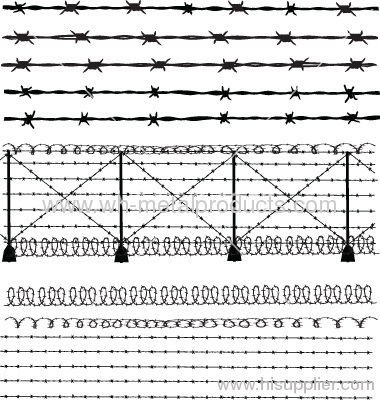 Barbed wire in three twist types
Barbed wire is made with high quality low carbon steel wire with the automatic twist machine. It is commonly used in grass field edges, railway, high way, prison and the privacy fields for separation and defence.
Barbed wire have three twist types: single twist barbed wire(also name single strand barbed wire), double twist barbed wireand traditional twist barbed wire.
Barbed wire includes line wire and barbed wire. In general, the wire diameter of line wire is larger than that of barbed wire. The barbed wire twist types depends on the twist type of line wire and barb wire. And the line wire sometime is single wire, sometimes is double wire.
Single Barbed Wire
Single barbed wire is a kind of security fences with sharp edges and high-tensile wire.
Wire Materials
: Galvanized steel wire, low carbon steel wire, stainless steel wire, PVC coated iron wire in blue, green, yellow and other colors.
Specifications
:
Barbed wire consist of line wire and barbed wire. Generally, line wire gauge is larger than barbed wire. Below data, the former is line wire, the latter is barbed wire gauge.
Wire Gauge
: 180#×180#, 200#×200#, 220#×200#, 220#×220#, 250#×220#, 260#×220#, 270#×220#, 280#×220#, 300#×200#, 200#×200#.
Barbs Spacing
: 1.96"--5.90".
Barbed distance
: 3-6inch.
Applications
: Single Barbed Wire has been widely used in military field, prisons, detention houses, government buildings and other national security facilities. Recently years, barbed tape has apparently become the most popular high-class fencing wire for not only military and national security applications, but also for cottage and society fence, and other private building.
Double barbed wire
Double barbed wire has two line wires twisted together with wire barbs attached. The wire is normally attached to wooden fence posts using a curved nail. This type is much safer than single barbed wire with the high tension.
materials
: hot-dipped galvanized wire, electro galvanized wire, PVC coated wire.
specifications
:
Barb spacing: 3" - 6".
Wire diameter: 1mm - 3.5mm.
Note: After galvanizing or plastic coating, the wire gauge is larger.
The length or weight per coil can be as customer need.
applications
: with high tensile, barbed wire is the perfect selection for cattle fencing and for the top wire above a traditional stock fence. It is also suitable for farm fencing, grassland farm. Barbed wire with chain link fence or welded fence can be found in use in railway, airport, high protection areas.
Barbed wire is relatively cheap and moderately effective. The barbs are painful if pushed against, thereby discouraging the horses from pushing against the fence.
Note
: the barb is quite sharp and easily the barbs can cause serious injuries. When install the barbed wire fence, you should take the gloves for protection.
Traditional barbed wire is made of low carbon steel wire or galvanized wire with the twisting processing by the barbed wire machines. Compared with single and double twist, traditional barbed wire is more security.
materials: low carbon steel wire, PVC coated wire, zinc coated wire, iron wire.
Uses and applications:
Land fencing and protection;
Features:
No stretching required when installing;
Barbs fixed between wires;
Adaptable for all fencing needs.
Uniformly zinc coated.
Specifications:
Gauge in B.W.G.

Approximate Length per Kilo in Meter

Barbs Spacing 3"

Barbs Spacing 4"

Barbs Spacing 5"

Barbs Spacing 6"

12x12

6.0617

6.7590

7.2700

7.6376

12x14

7.3335

7.9051

8.3015

8.5741

12-1/2x12-1/2

6.9223

7.7190

8.3022

8.7221

12-1/2x14

8.1096

8.814

9.2242

9.5620

13x13

7.9808

8.899

9.5721

10.0553

13x14

8.8448

9.6899

10.2923

10.7146

13-1/2x14

9.6079

10.6134

11.4705

11.8553

14x14

10.4569

11.6590

12.5423

13.1752

14-1/2x14-1/2

11.9875

13.3671

14.3781

15.1034

15x15

13.8927

15.4942

16.6666

17.5070

15-1/2x15-1/2

15.3491

17.1144

18.4060

19.3386
---